Liam McCormick's Church Architecture
| | |
| --- | --- |
| ✅ Paper Type: Free Essay | ✅ Subject: Architecture |
| ✅ Wordcount: 3633 words | ✅ Published: 1st May 2018 |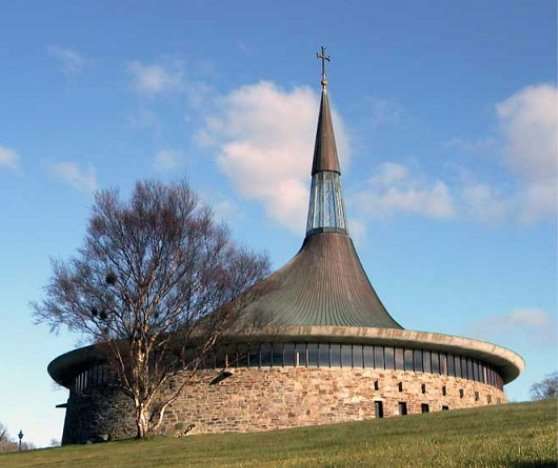 Fig 1 Photograph: St Aengus, Burt
________________
Word Count: 2,439
Liam McCormick is one of the most recognised architects in modern Irish church architecture. He has introduced design principles in his buildings, which were not only innovative and unique, but were somewhat radical in Ireland at that time. One of the most famous churches that he designed was St. Aengus' Church, Burt that was built over the period of 1964-67.
Get Help With Your Essay
If you need assistance with writing your essay, our professional essay writing service is here to help!
Essay Writing Service
When examining Liam McCormick's work at Burt we can see similarities between his ideologies and design principles that other famous architects have also employed in their architectural work. However, the question is, who and what helped inspire him? What are the ideas, materials and methods behind the overall design? All these questions culminate in the construction of this remarkable church.
McCormick carefully selected a site, which lies directly below the ancient fort of Grianan an Aileach. The land itself stretches down to Lough Swilly below and benefits from the impressive views of the surrounding countryside.
What I find most interesting is McCormick's distinct ability to read a site and produce remarkable buildings from that. This alone sets him apart from many of his Irish church architectural peers. It is obvious that when he designed Burt Church he had taken inspiration not only from other architects but also from the surrounding context in which the church integrates itself.
With the site being located adjacent to the Grianan an Aileach fort, McCormick has taken the fundamentals from its historic design and implemented them within his modern church concept. By doing so he has blended historic precedent with the functional and aesthetic requirements of what he believes a modern church should have.
"There is no doubt that Grianan is the inspiration behind the circular form of the church at Burt. The idea of a circular church was radical and it had not been attempted in Ireland before."[1]
With the church being integrated with the surrounding landscape, McCormick has ultimately made the church and the land at one with each other. This has a religious signification of the church being part of 'God's Earth'. This allows the feeling that the parishioners can be closer to their faith, or feel more at home within this type of church.
McCormick himself commented on the church and how it integrated with the land and also the great attention to detail that was employed by all that worked on the building.
"It is not often that a building is found, such as the little country church, which speaks so clearly of the loving care which has been lavished on it by the architect, builder, client, artists, craftsmen and everyone connected with it. This is as perfect an example of integration with its magnificent site, as it is, probably possible to achieve."[2]
McCormick has created a romantic relationship of form and material with the historic fort, which lies above Burt church. McCormick has sensitively merged the church into the site, by choosing to use natural stone for the walls and copper for the roof. In utilising these materials McCormick has helped blend the church into the ground in which it resides.
The church has been cleverly designed so that you can approach it from both sides. There is a path from the car park directly opposite and gentle rising steps from the road below which congregate at a cobble edged circle outside the entrance to the church. In a way McCormick is using his design to symbolise bringing people together from all directions of life, something that both religion and the church have aimed to achieve. However, they might not have succeeded successfully in this venture.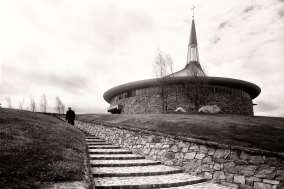 Fig 2 Photograph: Church approach from roadway and car park. St Aengus, Burt.
When you first approach the church you feel like you are setting foot into another world, or have simply stumbled on to some hobbits dwelling from Lord of the Rings. Though as you climb the steps you get a feeling that it is filled with delightful architectural moments, humble and honest in their appearance, but cleverly resolved in the craft of their creation.
McCormick achieves a sense of arrival with this skilfully designed approach. His approach leads you to a concrete canopy where a pair of solid doors covered with beaten cooper with glazed side panels lie below. The low-ceilinged entrance lobby emphasises the height and size of the circular body of the church. McCormick has carefully thought through every little detail of this building and how each element will affect the appearance, feel and flow of the building to its recipients.
The building's circular plan has a clever second internal circular wall, which is placed loosely to the exterior; this in turn creates not only the circular external façade but a circular internal layout disguising the auxiliary accommodation for the church, discretely from the congregation.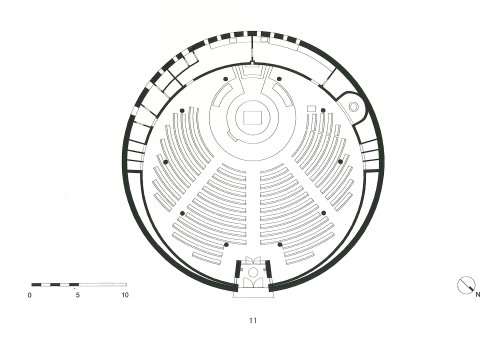 Fig 3 Plan: St Aengus, Burt.
The circular form of Burt means that there is no distinctive front or rear elevation; it also means there are no hidden external areas. Walking around the building reveals details that are both clever and subtle, and which contribute to the creation of a building that is at once vernacular and innovative. The external stonewall is constructed with a barrel like profile (inspired by Grianan an Aileach).
A band of brightly coloured stained glass runs the entire circumference of the church on top of the inner circular wall. The outer circular stonewall carries the secondary glazing through which light penetrates the stained glass allowing the chapel to be flooded with coloured light that gives an almost kaleidoscopic effect. With the ring of glazing being positioned between the roof and the external walls there is an impression that the roof is floating, this is amplified during the hours of darkness when the lights are on. Similar to Le Corbusiers work at Ronchamp, although comparing the two would be like comparing Salisbury Cathedral to the Notre Dame.
The sculpted copper roof is perhaps the most remarkable element of the building, which climaxes in an asymmetrically placed spire. The position of the spire is dictated by the location of the altar inside the church, the glazed lantern in the spire brings natural light down into the church over the altar resembling something out of a film. McCormick has purposely designed this in order to create dramatic effect within the church. The 'light from God' so to speak, giving a very religious feel to the church. If the lantern had lit the entire church, the same effect wouldn't have been possible. This is also similar to Le Corbusiers design in Ronchamp.
McCormick made the roof part of the overall composition, a piece of art in which to attract people. With the roof being visible for miles in the surrounding area, he created a roof, which took a sculptural form, with expression in material.
Within the church there are a number of structural pillars placed throughout which a appear to be not in contact with the roof by making them thinner and darker at the top, this also makes the roof appear to float, as there are no lines linking the glass to the roof.
To the exterior the metaphors continue, there are a number of pools strategically placed around the building to catch the rainwater from the roof that is distributed via concrete spouts placed above the stonewall. It is Christian belief that water is a blessing and with this in mind it is as if the church is being blessed when it's raining. Which as many know is quite often in Ireland, some say we are born with webbed feet! This is yet another incorporation of religion within the overall design.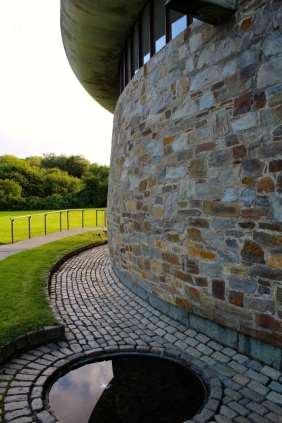 Fig 4 Photograph: Detail of circular pool and rainwater spout. St Aengus, Burt.
McCormick's handling of rainwater demonstrates the thought process that went into making sure each detail was correct. He also took great care and consideration when selecting the materials to be used, he salvaged cobblestones locally to use for the perimeter of the church, which is paved with granite cobblestones.
McCormick felt that his churches should be "socially correct", that the church should reflect the society in which it was to serve both by means and nature. In other words, if the society was mainly lower class, there was no point in building a church that portrayed wealth that would make the society's congregation feel both uncomfortable and unwelcome, not to mention standing out like sore thumb from the surrounding area.
McCormick carefully put forward an argument for modernism within the Irish Church architecture, he used authentic materials, which would be familiar to the community that the church would serve, and also suitable to the climate in which it was to withstand. He used modern structural techniques without becoming alien to the craftsmen employed to carry out the construction. After all, he wanted to create a piece of art and architectural beauty that was fitting to Donegal at that time, and in doing so he required excellent craftsmanship in order to achieve his masterpiece. McCormick's design of Burt demonstrates an enthusiasm to develop a modern church architecture appropriate to the Irish context.
McCormick's masterly use of materials and high quality of workmanship, with the attention to detail evident in the construction of the building, are remarkable and were ground-breaking at the time. There is an essence from his designs that he draws extensively on things, which interest him outside of his architectural design. He obviously has a great love for the Irish landscape and what elements make up such landscape; the stones, rocks and the rain!
Liam McCormick manages to invoke an emotional reaction from those who experience his church. In some respects it's seems like he is playing God with architecture.
"People respond emotionally to his buildings, which is the rarest and highest praise any architect can receive."[3]
It is clear "McCormick was a collector of ideas. He studied and visited European works, it was the backbone of his modern approach to design; he was enlightened with architectural ideas and solution from abroad."[4] He then brought this forward thinking approach to Ireland within his church designs. His "process of originality and thinking is what created the architecture that Liam McCormick produced, and what sets it aside from other architecture, in particular the tradition of 'Hand-me-down' church architecture in Ireland."[5]
Although many of his ideas where of original nature, he took great influence from other architects and allowed some of their ideologies and design principles to influence his own work.
"Corbusier, Gropius and Alvar Aalto were among McCormick's stated influences. He particularly admired Aalto's sense of scale, location and economy."[6]
McCormick's architecture can be seen as somewhat a "conversion to Functionalism".[7] His buildings are not only functional for the job they are intended for but also embrace an organic architecture that can be compared to ideologies of Alvar Aalto.
"To everything its proper place, a setting dictated by its owns demands, its own aesthetic. And everything should be connected with the community served by the town" [8](Aalto 1924:20).
In Aalto's own words: "Nothing does a town greater honor than a well-developed public life and functional public places" [9](Aalto 1924: 20).
Both Alvar Aalto and Liam McCormick share the unprecedented idea that society lives and survives by the architecture that is created.
In Aalto's article "the Humanizing of Architecture"[10] he examines how human beings react to forms and construction. McCormick also believes in creating architecture that pulls on the emotions of the occupant, just as Aalto designed The Paimio Sanatorium, he tried to emphasise the environmental qualities of where his architecture was to reside.
Also like Alvar Aalto, McCormick believed in a total work of art, creating a picture as a whole, he was a great believer in incorporating art within his buildings and this is notably present at Burt, with prominent Irish artwork included. Even though McCormick took influence from other Architects, this did not make his work any less original. The concept that being influenced by a person or piece of work can lead to either imitation or a piece of work that to some extent can be taken to a different level. This is debated prominently in the Anxiety of Influence, of how influence doesn't necessarily have to be a bad thing nor does it mean that the subsequent piece of work will be better for it.
"But poetic influence need not make poets less original; as often it makes them more original, though not therefore necessarily better."[11]
McCormick has not only managed to create an original piece of Irish church architecture but has also managed to avoid the pressure of influence, which could have made him imitate previous architect's work. As a result he has created a lasting piece of modern architecture that has added value not only to its landscape but also the local society. The design of Burt Church actually helps enhance the religious message in which the church bestows on to its patrons.
Find Out How UKEssays.com Can Help You!
Our academic experts are ready and waiting to assist with any writing project you may have. From simple essay plans, through to full dissertations, you can guarantee we have a service perfectly matched to your needs.
View our services
In conclusion, even the most creative of people whether they are architects or artists, all take influence from others work. In some respects, it is a degree of respect/admiration of previous work, in others it is simply a way to generate further ideas or take an idea further than before. McCormick certainly has done this with Burt Church, with his clever use of material and form to blend the church with the surrounding landscape but yet give a hint of pleasure and intrigue which the use of the sculptured roof alludes to. He has managed to not only create a radical new Irish church architecture but has developed ideas from others such as Alvar Aalto, in order to create a complete masterpiece of work.
Bloom, Harold, The anxiety of influence: a theory of poetry, New York; Oxford: Oxford University Press, c1997
Larmour, Paul, and Shane Toole. North by northwest: the life and work of Liam McCormick. Dublin: Gandon Editions for Irish Architecture Foundation [and] Irish Architectural Archive, 2008.
Pollard, Carole, and Liam McCormick. Liam McCormick: Seven Donegal churches. Co. Cork: Gandon Editions, 2011.
Websites
List of Illustrations
Fig 1 Photograph: St Aengus, Burt
http://www.inchhouse.com/reviews Accessed December 12th 2016.
Fig 2 Photograph: Church approach from roadway and car park. St Aengus, Burt.
http://imma.gallery-access.com/intl/en/tour.php?a_id=12Accessed December 12th 2016.
Fig 3 Plan: St Aengus, Burt
Pollard, Carole, and Liam McCormick. Liam McCormick: Seven Donegal churches. Burt: Gandon Editions, 2011.
Fig 4 Photograph: Detail of circular pool and rainwater spout. St Aengus, Burt. https://herdesignjournal.wordpress.com/2013/08/06/st-aengus-burt-chapel-by-liam-mccormick/ Accessed December 12th 2016
---
[1] Paul Larmour, "An Architectural life" North by Northwest, (Gandon Editions, 2008) P.49. Taken from RIAI Yearbook 1972 (RIAI Dublin), P.23
[2] Paul Larmour, "An Architectural life" North by Northwest, (Gandon Editions, 2008) P.49. Taken from RIAI Yearbook 1972 (RIAI Dublin), P.23
[4] Tracy recalls McCormick's use of literature and magazines. "with his almost encyclopaedic mind". Referencing, the architectural review, Domus, L'Architecture d'Aujourd'hui, Architectural record, Bouw and werk. Joe Tracy, "Forty Years with Liam" North by Northwest, (Gandon Editions, 2008) P.220
[5] McCormick describing the tradition of "hand me down copies of transitory fashion" comparing Ireland to the vernacular traditions of Finland by Aalto. Liam McCormick, "remembrance of things present "North by Northwest, (Gandon Editions, 2008) P.18
[11] Harold Bloom, The anxiety of influence: a theory of poetry, New York; Oxford: Oxford University Press, c1997, P. Introduction 7.
Cite This Work
To export a reference to this article please select a referencing stye below:
Reference Copied to Clipboard.
Reference Copied to Clipboard.
Reference Copied to Clipboard.
Reference Copied to Clipboard.
Reference Copied to Clipboard.
Reference Copied to Clipboard.
Reference Copied to Clipboard.
DMCA / Removal Request
If you are the original writer of this essay and no longer wish to have your work published on UKEssays.com then please: