Nestle Company Analysis - Competition, Growth and SWOT
| | |
| --- | --- |
| ✅ Paper Type: Free Essay | ✅ Subject: Business |
| ✅ Wordcount: 1566 words | ✅ Published: 13th Sep 2017 |
Company history and background
In 1867, there was a rapid rise in infant mortality by the reason that the babies were unable to feed from their mothers. Therefore, Henri Nestlé – a German man developed a type of milk which based on food for the newborn child. In five years later, his products were being sold around the world as a suitable food for all ages. With the significant development, Nestlé soon became a multinational industry for the reputation in providing the high-quality condensed milk. Obviously, Nestlé continued its succeed by a step into the chocolate industry. Although in 1875 Henri decided to sell the company to his three local businessmen in Vevey but the name has been maintained till now. They hired skilled staff to expand their business. Later in 1904, Nestlé chocolate was first introduced to the market to compete with chocolate bar Hershey. In 1905, Nestlé ventured on a merger with the Anglo-Swiss Condensed Milk company to form a dynamic and potential enterprise. During 1906, Australia has become the second largest export market for Nestlé and served by a huge system of retailers and sales agents. Kit Kat, After Eight and Smartie respectively added to its portfolio. Australia's head office became the headquarter of Oceania Region, which includes New Zealand, Australia and Pacific Island in 1999 and its now the chief executive officer is Trevor Clayton.
Company Operations
Nestle is a preferred trademark in Australia due to its variety brands and the ability of satisfying kinds of customer. Based on the Australian's consumption needs, its products are categorized into 10 groups: Drinks, Coffee Products, Breakfast Cereals, Chocolate & Confectionery Products, Snacks & Muesli Bars, Medicated Lozenges, Recipe Bases &Sauces, Noodles, Baking Ingredients and Cooking Milks.
According to the Aus Food News that Nestlé's chocolate products have been ranked at the second position after Cadbury of the top 15 chocolate bars in Australia. Nestlé's products are now nationwide selling through the outlets.
Australia, New Zealand, and Pacific Island are parts of the Oceania region. The Nestle Oceania is the workplace of more than 5,000 employees within over 70 factories, offices and the distribution centers placed across the region. Until now, Nestle has totally 447 factories in 86 countries around the world with appropriately 330,000 employees. Products are being sold in 196 countries and become the world's leader company in nutrition, health, and wellness with an unmatched portfolio of more than 2,000 global and local brands.
Nestlé meets the customers' need by launching various brands of chocolates includes Kit Kat, Aero, Smarties, Crunch and Nestlé. Customers always have many choices with Nestlé's chocolate as the various shapes, sizes and tastes such as Kit Kat
The pie chart below showed the market share of Australia Nestlé's Chocolate bars with others competitors in 2015: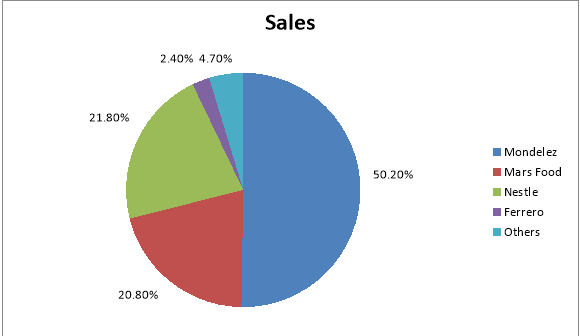 The line chart of the market growth of Australia Nestlé's Chocolate bars from 2011-2013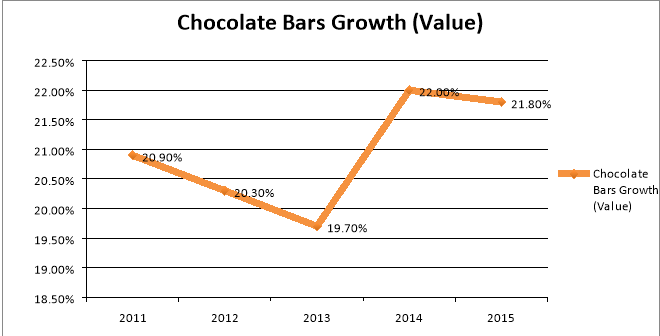 Company's mission statement
"Nestlé is…
…the world's leading nutrition, health, and wellness company. Our mission of "Good Food, Good Life" is to provide consumers with the best tasting, most nutritious choices in a wide range of food and beverage categories and eating occasions, from morning to night."
The mission statement of Nestle is quite good. This is a customer-oriented mission since it concentrates on the consumer's need not the sales. It is not too long but not too short and it has a clear content which is easy to understand. The mission statement describes that Nestle and its staff have always focused on their quality because they want to give the best as well as the most healthy, nutritious choices to their consumers to contribute their life condition. Nestle enhances itself by the ability providing the enjoyment of food and beverages which reveal that they give people the reason to spend money. However, the customers couldn't completely trust Nestle as far as it points out the implementation plan. Additionally, it is unable to see any core value of the company in the statement such as teamwork, integrity or commitment. Despite the big company, Nestle cannot stand apart from its competitors until it has a comprehensively distinct mission statement.
SWOT Analysis
Nestle has run a huge number of popular brands until now. The company manages to supply diverse type of food and drinks in order to fit the global market environment also to satisfy their buyers' requirement. Obviously, this strength not only impulses the company's revenue but significantly spread their reputation worldwide so as to maintain their loyal customers and introduce to the new ones.
Strongly focus on researcher and development
The Nestle Researcher and Development (R&D) were established to aim at innovating and guarantying the quality as well as the safety of every product. Researchers in the company understand that food can affect and impact human lives; therefore Nestlé believes that its responsibility is to make effort in seeking a solution to create the more nutritious and healthier food to serve billions of families or individuals all over the world. To facilitate researching, Nestle has 3 Science & Researcher centers and 31 Product Technology Centres and R&D centers worldwide with about over 5,000 employees includes nutritionists, dietitians and workers. Their attempts are worth to receive the trustworthy from customers' choice selection.
Less ability to provide consistent quality in food products
Customers have been warned about the food contamination and poor qualities supplies from Nestle and the risk of cancer when using Nestle Milk. Although they are all rumours without any evidence, the image of the company might be negatively affected the consumption and quantity of consumers.
Nestle is now owning a broad range of well-being products which bring them much profit annually. This money can give them opportunity to acquire more start-ups to keep expanding their trademark around the world. By this way, they are not only earning but also creating new products with minimal monetary cost. Furthermore, Nestle might be given chances to co-operate with other brands which have reputation such as Coca-Cola – in 2001, the Coca-Cola Company and Nestle S.A announced their joint venture to tap a sharp growth of beverage segments.
Strong researcher & development
Nestle has a great and strong team about researching and developing. It is advantage because they can help Nestle to launch more new products in future and expand the market in places even the places with the hard condition, for example Africa – in 2016, they found that the Africans had too few healthy red blood cells which transport oxygen around the body in other terms is iron deficiency. Thus, Nestle decided to tackle the problem by adding relevant ingredients which can help them into their most popular products – Maggi bouillon
People have trend to choose the best things for themself and their families especially food which is the most crucial and indispensable thing in daily life. Healthy food definitely has great intensity of buying and consuming. The mission of Nestle is to try their best provide the consistently healthy and nutritious food in response to the demand from customers.
The company has to take legal responsibility if there is any problem happens which is related to food safety. Therefore, Nestle must be careful in the producing process even the smallest point. In such an event, the company might be forced to issue product recall and waring, which may devastate the company's reputation.
With regard to the growth of global economics, the value of raw materials is rising regularly. Nestle will have to face with the situation that they are forced to increase their prices but it maybe resulted in a decrease in consumption while they will suffer capital loss if they keep the price at same stage.
Cite This Work
To export a reference to this article please select a referencing stye below:
Reference Copied to Clipboard.
Reference Copied to Clipboard.
Reference Copied to Clipboard.
Reference Copied to Clipboard.
Reference Copied to Clipboard.
Reference Copied to Clipboard.
Reference Copied to Clipboard.
DMCA / Removal Request
If you are the original writer of this essay and no longer wish to have your work published on UKEssays.com then please: