Adidas' and Adidas Pop's Competitive Advantage
| | |
| --- | --- |
| ✅ Paper Type: Free Essay | ✅ Subject: Marketing |
| ✅ Wordcount: 1097 words | ✅ Published: 1st Aug 2017 |
Three strategies that will Increase Adidas' and Adidas Pop's Competitive Advantage
A competitive advantage is modelled around the question of why a consumer should purchase a product from a given company when there are other numerous alternatives (Gebauer, Gustafsson & Witell, 2011). According to Kumar et al. (2011), competitive advantage is the force behind a company's sustainability and long-term survival, and as a result, scholars have devised numerous frameworks such as the 5C's of marketing and Porter's five-force model to evaluate the organisational competitive advantage. In this section I have identified three strategies that a high number of firms employ to gain a competitive advantage and which could be employed to increase the competitive advantage of Adidas and its new product Adidas Pop.
Get Help With Your Essay
If you need assistance with writing your essay, our professional essay writing service is here to help!
Essay Writing Service
1. Differentiation
Over the years it has become apparent that markets have become most turbulent and competitive for manufacturing firms and pricing strategies are no longer sufficient to keep an organisation competitive (Gebauer, Gustafsson & Witell, 2011; Valipour, Birjandi & Honarbakhsh, 2012). In some industries however, businesses still use price wars to undermine their competitors (Zhang & Round, 2011). However, lowering prices for competitiveness is unsustainable in the long run and, as a result, many companies have resorted to other strategies to help differentiate themselves from competitors (Valipour, Birjandi & Honarbakhsh, 2012).  According to Valipour, Birjandi & Honarbakhsh (2012), traditionally, manufacturing organisations focused on products to the neglect of customer needs. However, this approach has changed and now, customer needs largely inform the product process (Kumar et al., 2011). The Adidas differentiation strategy is built around establishing the company as a premium quality and highly innovative brand that not only sells sports apparel but can positively impact consumer lifestyles (Kohli & Jaworski, 1990). To achieve this strategy, Adidas has developed a number of highly innovative products and has also collaborated with high profile fashion designers to create sportswear that is both functional and fashionable (Adidas, 2016). The move has led many consumers around the world to use Adidas products as a fashion statement instead of for sportswear (Gebauer, Gustafsson & Witell, 2011), which has seen the Adidas market share grow in line with its business strategy. As part of the Adidas product range, Adidas Pop will utilise a similar customer-centric differentiation strategy to set itself apart in the emerging markets of Asia. Despite retailing at a comparatively premium price, Adidas Pop will appeal to the targeted markets 19 to 29 year-olds who want to live the Adidas lifestyle. This differentiation strategy will require the input of the marketing and production departments, as well as the R&D unit to collect consumer wants and capture them in a product that accurately addresses their needs. To measure the success of the differentiation strategy, the organisation will evaluate the development and products costs with actual sales.
2. Alliances
Strategic partnerships are vital to businesses, as evidenced by Adidas' decision to form an alliance with Reebok to penetrate the North American market and outsource its manufacturing functions to third parties in China to cut on production costs (Evans & Richardson, 2007). Furthermore, Adidas has also formed alliances with distributors such as wholesalers and franchisees, to penetrate markets that are otherwise too costly for the company to set their shops in (Adidas, 2016a). Without these strategic alliances with both manufacturers and distributors in China, the vision for Adidas Pop would be impossible or extremely costly to establish. However, because of Adidas' strategic partnerships, the Adidas Pop can be operationalised and could possibly break even within the first year. However, while strategic alliances are increasingly becoming a popular practice in the corporate world, they are not always beneficial to all involved parties (Hamel & Pralahad, 1985; Tax & Brown, 1998). For example, critics observe that after 11 years of an alliance, Reebok lags in sales, in which while the three other brands' profits have been growing at 16 percent annually, for the same period, those of Reebok grow by approximately five percent (Adidas, 2016). In such cases, Buhalis & Crotts (2013) suggest the use of partnership performance measurement systems such as the Balanced Scorecard to determine the financial and non-financial position of Adidas Pops' potential allies.
3. Cost Leadership
Developed by Michael Porter, cost leadership is a way of establishing a competitive advantage by keeping costs at the lowest level (Kaliappen & Hilman, 2013) If the cost for Adidas products can be kept lower than those of Nike or its other competitors then it is possible to create a competitive advantage. It is important to note however that keeping costs at the lowest level possible is not such an easy task. Costs need to be managed across the entire chain from the very beginning to the very end. According to Kaliappen & Hilman (2013), a balanced mix of a cost leadership strategy enhances organisational performance. Cost leadership is mainly internal-oriented as opposed to other competitive strategies such as the differentiation strategy that focus on the external environment (D. Banker, Mashruwala & Tripathy, 2014). According to D. Banker, Mashruwala & Tripathy (2014), cost leadership involves total costs control, in which, the production budget is solely focused on the most necessary processes. Adidas' main competitive strategies are differentiation and strategic alliances. However, cost leadership will also be a useful strategy for Adidas Pop, in which the central focus will be total cost minimisation. Moreover, cost leadership is beneficial in keeping debts levels down and monitoring operations' costs (Valipour, Birjandi & Honarbakhsh, 2012).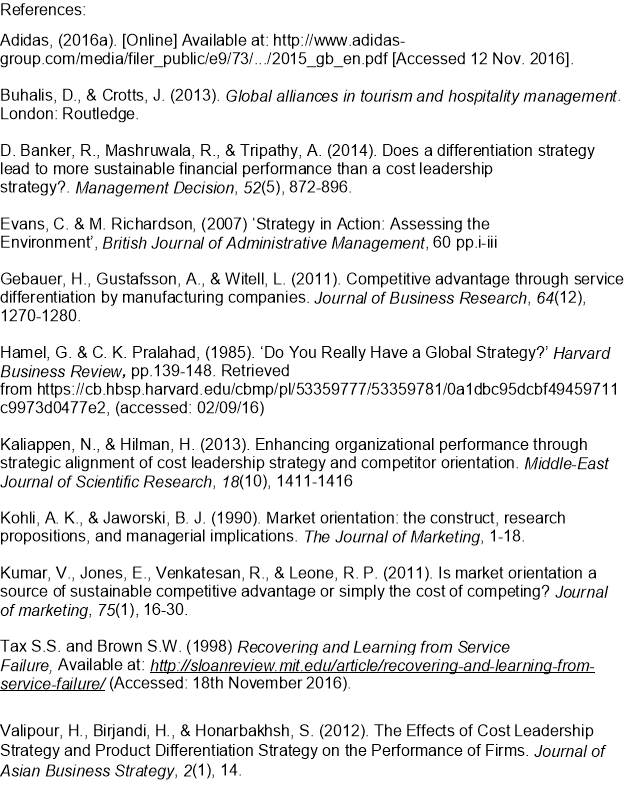 Cite This Work
To export a reference to this article please select a referencing stye below:
Reference Copied to Clipboard.
Reference Copied to Clipboard.
Reference Copied to Clipboard.
Reference Copied to Clipboard.
Reference Copied to Clipboard.
Reference Copied to Clipboard.
Reference Copied to Clipboard.
DMCA / Removal Request
If you are the original writer of this essay and no longer wish to have your work published on UKEssays.com then please: